Fatdog Arm reaches another milestone today - it is now capable of booting straight to desktop. Booting to command line only takes 5 seconds (that includes the 3 second wait for SD card media to be recognised), booting to full desktop takes about 25 seconds (may be because of slow SD card, gzip decompression, etc). Once in the desktop, the applications are zippy (they are a bit sluggish to start but once running, works fast). We're talking the entire build here - nothing cutdown yet, all the 450MB gzip-compressed SFS goodness with all the toolchains, headers, static libraries, and what have you.
As a bonus, I put the same stuff on the micro SD card for the ARM tablet I mentioned in the
previous post
, and here is the picture of that tablet running Fatdog Arm.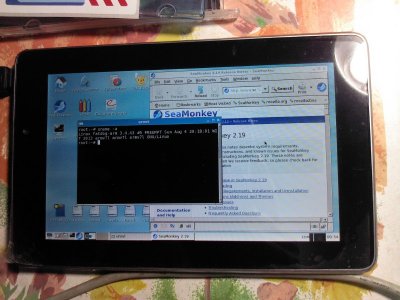 Unfortunately, I am going to lose that tablet soon (my mum is going on a trip and she will take that tablet with her).
But yes, apart from that, I am excited !!
Posted on 15 Aug 2013, 5:22 - Categories: FatdogArm Linux Arm
Edit - Delete
Comments:
Posted on
17 Aug 2013, 1:27
by
jamesbond
"Comment accidentally deleted"
Whoever posted a previous comment here, please post again. I accidentally deleted your comment when uploaded the next post - I haven't even read your comment yet.
cheers!
Delete
Posted on
17 Aug 2013, 8:32
by
01micko
"it was me"
Just a congratulatory post agreeing with you that this is certainly an exciting development!
Cheers
Delete
Add Comment